<<
Go to Spanish version
05/14/2023
Toro: A Captivating Documentary of Light and Redemption in the Shadows
By Sandra M Ríos U
Twitter: @sandritamrios
"The film celebrates those marginal places, rescues those little fireflies, celebrates those darknesses. Toro is that unknown firefly."
It took Ginna Ortega and Adriana Bernal five years to complete 'Toro,' the documentary that presents the remarkable story of Hernando Toro Botero, a self-taught photographer who developed his career in the Modelo prison in Barcelona, where he was incarcerated for several years in the nineties, serving a sentence for drug trafficking.
From that unthinkable space, a symbol of Francoist repression that is now a museum, he managed to internationalize his name by turning his cell into a photography studio where he portrayed his fellow inmates with a special light, truth, and sensitivity. More than 40 exhibitions, recognitions, and even an appearance in the book '150 years of Spanish photography' are part of his achievements.
Upon his return to Colombia, the Colombian directors meet and visit him, establishing the first contacts that led them to consider the possibility of making a short documentary, but soon they discover that behind the man known as the 'prison photographer,' there was much more; a fascinating, complex, somewhat irreverent character who contained several metaphorical lessons or messages within himself, such as that of the fireflies, a symbol that floats in this story as a representation of a being devoid of prejudices who portrays and brings brightness to anonymous individuals, marginalized people, and eliminates the barrier of stereotypes.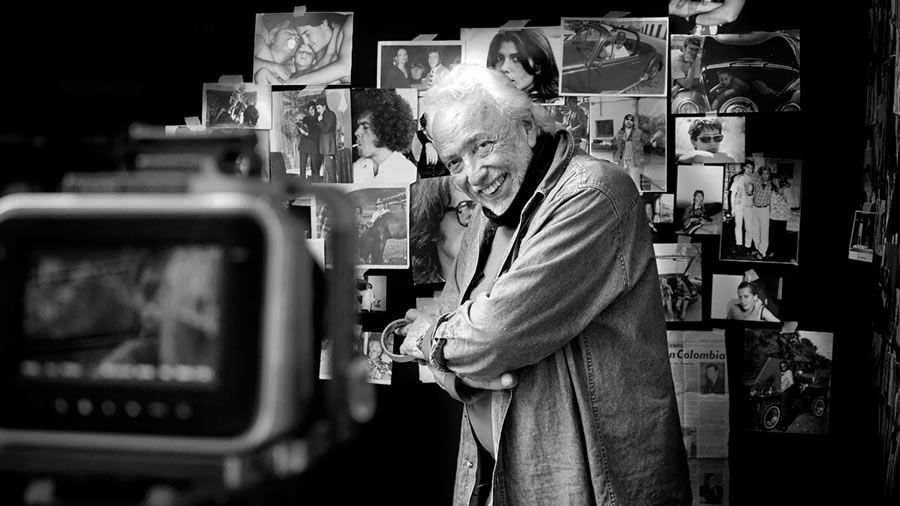 Ginna and Adriana had the fortune of getting to know and access his complete transgressive work unexpectedly, including unpublished photographs that added up to an analog archival material of over 21,000 pieces, which were also digitized by Toro himself for the film. This made the production a real challenge that required them to be very creative in showcasing and exploiting this material, using animations, graphics, and various collages presented in different ways each time, giving dynamism to the story. "It made us think that we had to take risks in exploring the archive, to see other ways of exploring the archive, not just putting a photo and that's it, but it's worth intervening, it's worth juxtaposing images and playing around. It's not just about the purity of the image, but we are interpreting those images in the film," commented Ginna Ortega in a long conversation at the end of last week.
With the use of collages, the directors manage to give importance to the archival documents that portray life inside a penitentiary center that was closed in 2017 after 119 years of operation.
The documentary uses voice-over narration as a thread between the character and the revealing experience that the filmmakers had as they delved into the life and work of this artist, a resource they were afraid of and took them more than a year to develop. "We never thought of making the film with a voice-over... It's a resource that I have a lot of respect for, it's very difficult. The most challenging part of making the film was the voice-over, it was a very arduous process that came up when we realized that Toro's film, with him just talking, was not that interesting because there were many things he didn't show, didn't say, and that we knew. We did many exercises, many experiments, and we found that it could be a counterpart in the film because Toro and his staging and character are one thing, and we are behind the camera... It was a very complex process, it took us a year to write that voice, to record, re-record, and think," Ortega confessed.
Behind this strong, dominant, and sincere character, there are a series of other messages - those of second chances, resilience, and empathy - that enrich the film and justify why "Toro" is a feature-length film and its character worthy of being brought to the screen. On May 18th, the film will finally be released in theaters after its journey through national and international festivals. This will be the opportunity for Ginna and Adriana to reunite with Toro, who is returning to the country from Spain for the promotion of the film, and whom they haven't seen since 2019. It will also be the moment for the photographer to see the production for the first time on a big screen.
The full conversation (in Spanish):
<<
Go to Spanish version