<<
Go to Spanish version
05/15/2023
Jeanne du Barry: A Captivating Biopic Opening Cannes 2023, Starring Maïwenn and Johnny Depp
"It all began when I went to the cinema in 2006 to watch Sofia Coppola's 'Marie Antoinette.'"
A film out of competition has been selected to open the Cannes Film Festival tomorrow. Its title is "Jeanne du Barry," a biopic directed, written, and starring Maïwenn, a French actress who is directing her sixth feature film.
Johnny Depp also stars, portraying King Louis XV.
"Jeanne du Barry" tells the story of young Jeanne, thirsty for social ascent, who uses her charms until she becomes the mistress of the Count of Barry and thus meets Louis XV. They both fall in love at first sight. She makes the king rediscover a taste for life and becomes his right-hand woman, which unleashes a scandal at the court because she is a woman.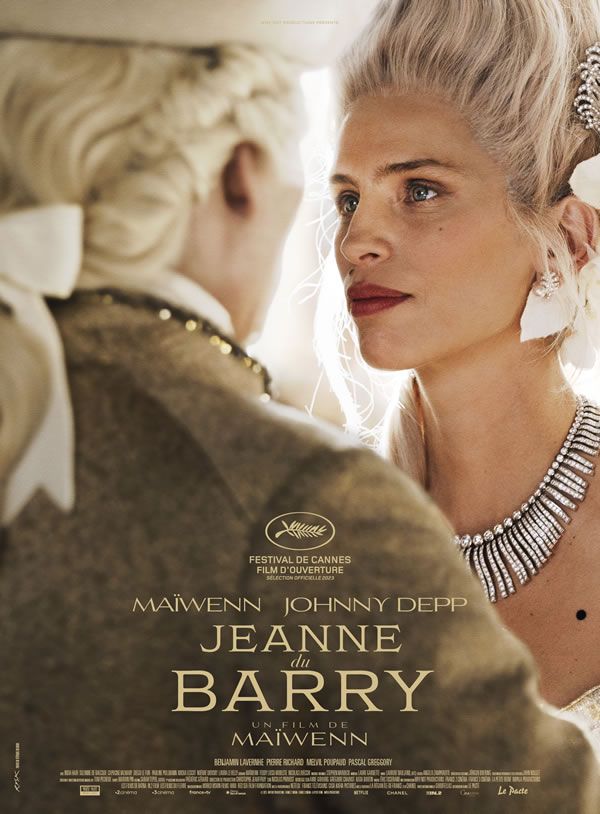 The intentions to adapt this story arose when the director watched Sofia Coppola's "Marie Antoinette" (2006), in which the figure of Jeanne du Barry is portrayed by Asia Argento. "When she leaves the screen, I miss her and immediately feel a connection with her. Jeanne du Barry seduces me because she is a magnificent loser, and maybe because her life has similarities to mine, although that hasn't been the only reason," says Maïwenn.
Johnny Depp was not the first choice for the French actress and director, who initially thought of a French comedian, but he gave up after reading the script. Then she tried another actor from her country, but it wasn't possible due to health problems. Expanding the search internationally, Depp came into the picture for the film and accepted. Regarding the experience of directing such a renowned and controversial actor, she comments, "Johnny is inhabited by many paradoxes. When a fly bites him, suddenly he doesn't want to continue playing the written role. But I feel that this bewildering behavior corresponds more to an American system, very different from ours, where the star makes decisions and directors must adapt to them. In our exchanges, I learned a lot from him, and he brought much more than just relevant ideas."
Depp saw in this role the opportunity to portray a different character, a role tailor-made for a French actor, but he assumed the double challenge, according to him, of playing a king. He researched from many biographies but focused primarily on the little stories, the anecdotes, and what was known about his daily life.
The film was shot last year for eleven weeks in Versailles and other locations in Paris and has not been without controversy due to the choice of this film as the opening of Cannes 2023 and the fact that it features an American actor. The festival director, Thierry Fremaux, dispelled the comments by stating that it is a beautiful film, that Depp is extraordinary, and that he is not interested in being part of ideas and media exploitation regarding the actor.
Tomorrow, on the opening day, the film will have four screenings.
Image credit: Prensa Cannes/ Why not Productions / Stéphanie Branchu.
<<
Go to Spanish version