<<
Go to Spanish version
05/18/2023
LOVE, WOMEN, AND FLOWERS, by Colombian documentary filmmaker Marta Rodríguez, will be showcased at Cannes.
Among the 34 titles featured in this year's "Cannes Classics" section is the documentary by Colombian filmmaker Marta Rodríguez, titled "Love, Women, and Flowers."
The 52-minute medium-length film from 1989 will be screened in its restored version.
What is the cost of beauty? This work asks this question in the 1980s, a time of booming Colombian flower industry internationally, which now exports almost 95% of its production, consisting of over 1400 varieties, and generates 200,000 formal jobs, according to Asocolflores.
During that time, there was another hidden reality that Marta Rodríguez, along with her partner Jorge Silva, denounced—the use of pesticides in flower fields in the savannas and the labor conditions, where the female population predominated. For five years, they documented the daily lives of these workers and collected testimonies that reflect the early attempts to create a labor union and make efforts to protect the environment.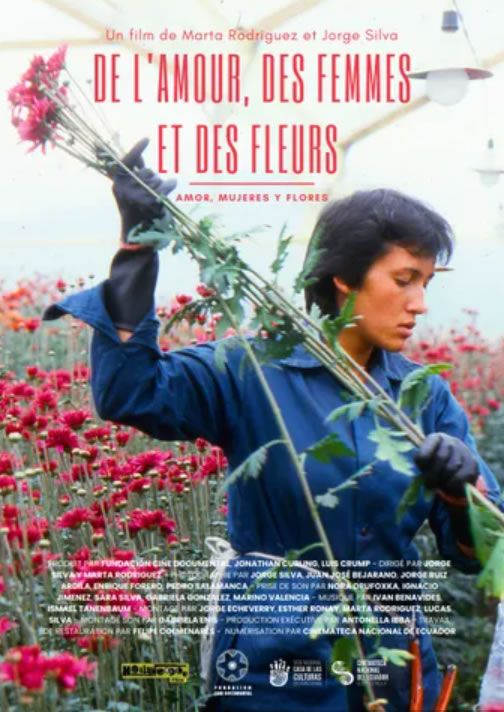 In the midst of the lengthy filming, Jorge Silva suddenly passed away at the age of 46 in 1987, leaving Marta to complete the film alone. She said, "I had to summon a lot of love to finish this movie. A total love for my country, for cinema, and for him."
The restoration of this film took place between 2022 and this year, starting from the original 16mm negative and duplicates because some original material was lost. Felipe Colmenares, a producer and responsible for the archives of the Documentary Film Foundation in the country, dedicated himself to this restoration, with the support of the Cinemateca of Ecuador for its completion, overseeing the digitization process.
The foundation submitted this medium-length film for consideration at Cannes, and it was selected in the "Cannes Classics" section to be showcased on Sunday, May 21. Regarding the film, Gabriela Torres from the Documentary Film Foundation commented, "Since its inception, this film has faced many obstacles: pressure from flower industry groups, Jorge Silva's sudden death, and Marta had to carry it forward on her own. She had the courage to complete this beautiful and impactful work." Similarly, looking at it today, Colmenares asserts, "It's a film that addresses current issues such as dignifying work, fighting against sexism, and ecology." He added, "We are thrilled to know that 'Love, Women, and Flowers' is having a second life" as part of the festival.
The documentary will be screened at the Buñuel Theater at 10 p.m. In the "Cannes Classics" section, other recognized feature films such as "Godard by Godard" by Florence Platarets, "Man on Pink Corner" by René Mugica, "Contempt" by Jean-Luc Godard, "The Munekata Sisters" by Yasujirō Ozu, "Underground" by Emir Kusturica, "Viva Varda!" by Pierre-Henri Gibert, "Thelma & Louise" by Ridley Scott, and "Spellbound" by Alfred Hitchcock are also being showcased.
<<
Go to Spanish version