<<
Go to Spanish version
08/28/2023
Bogotá Story: A Short Film that Shatters Myths about Motherhood – Competing in the Venice Film Festival
There's a myth debunked in this short film: That of the self-sacrificing mother from three decades ago who resisted pursuing her dreams without a second thought, upon the arrival of her children.
Esteban Pedraza is the author of "Bogotá Story," a film selected at the Venice Film Festival, competing in the "Horizons" section.
"Bogotá Story" follows Pilar, a young woman who, like many, had her child unexpectedly and had to readjust her life with her partner Alejandro. With her professional aspirations still intact, she receives the opportunity for a moderately paid internship in the U.S. for a year, with the possibility of extending it into a solid contract. For Pilar, despite being a mother of an infant, the decision is practically obvious. For Alejandro, it's not, as he's not willing to leave the country.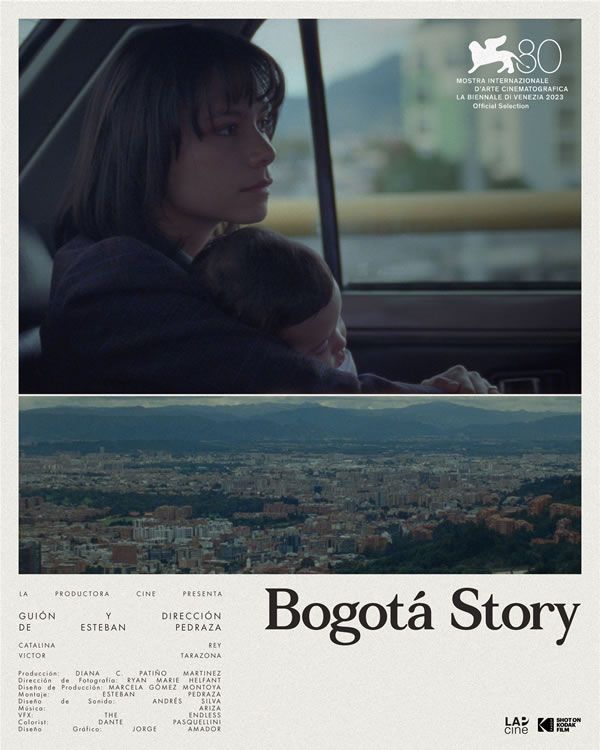 Pedraza comments that this is the first time he has decided to tell a personal story connected to his Colombian roots, reflecting the challenges faced by many individuals and families in the third-world country with a history of violence when it comes to the phenomenon of migration. This brings forth a series of complexities, dilemmas, fractures, and challenges. "Although fictional, this is a very personal film inspired by my parents and the challenges I don't remember when I was a baby. This film raises questions about our responsibilities to our families versus our responsibilities to ourselves. As a Colombian who grew up with a single mother in the United States, these themes and questions have been a natural obsession for me since I was a child."
Those vague or absent memories of the director's early childhood evoke the turbulent Colombia of the late 1980s and early 1990s, marked by the war declared by the drug trade and its audacious actions, such as car bombings. It is within this atmosphere of uncertainty that the protagonist seeks an opportunity for a better life.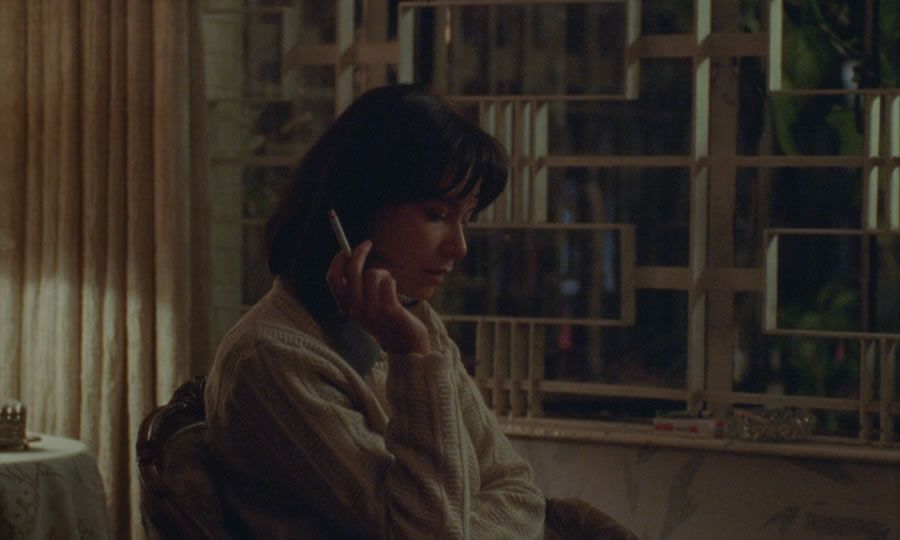 The film's producer, Diana C. Patiño Martínez, also shared her thoughts on the story: "Bogotá Story is set in the context of the 1990s in Colombia, amidst electricity rationing and the tension caused by drug cartel car bombings, among other things. It was important to capture this environment due to the emotional repercussions it has on the characters' private lives. In the short film, we are with the couple all the time, experiencing the conflict from their intimate spaces, sensing the external tension and the weight of the social context that shapes their relationship and influences their desires and decisions."
While these external factors help understand the background and weight of the mother's decision, Esteban Pedraza's perspective highlights the inherent desire in every person, regardless of gender, to fulfill their dreams, to achieve something beyond the innate desire of women to become mothers someday. This perspective is often not explored extensively and can fall into stereotypes, especially when discussing generations prior to the Millennials.
Within the director's personal view, there is also a theme of memory and its reconstruction, based on fragments, as highlighted by the producer. "Esteban is an extremely meticulous director, from the script to the careful selection of actors and actresses. He is simultaneously respectful of others' work and collaborates with confidence in the team. In just 16 minutes, he manages to build a complex universe, representing both private and public life during a specific moment in Colombia, capturing his emotional perspective on that context. Esteban is now returning those country stories he grew up hearing and constructing in his mind since childhood, through images."
Recreating a decade like the 1990s might seem straightforward when primarily focused on interiors; however, it presents certain challenges where art direction becomes more critical, as Diana points out: "The 90s might seem relatively recent, but upon detailed analysis, radical changes have occurred in lifestyle due to mobile technology and connectivity that didn't exist 30 years ago. We returned to this era and felt it thanks to the work of Marcela Gómez in art direction and her team. We recreated the electricity rationing, the power cuts of that time. We darkened the location, as well as several blocks, to convey the true sensation of a blackout both in the setting and the exteriors."
Selection at the Venice Film Festival
Chosen in the "Horizons" section for short films, the Colombian film will compete alongside twelve other titles, being the only Latin American representative in the short film format. It joins Spain (with Marina Alberti's "Aitana") as representatives of Ibero-American cinema.
"The Venice Film Festival is one of the world's most important festivals. It's a category A festival that requires world premieres for films and usually has a stronger focus on European projects. Therefore, it's important for Colombia to be present there, as it provides a perspective not only on our country but also on Latin America. We are delighted that a Colombian story is being showcased alongside 12 projects from countries as diverse as Germany, France, Italy, the Philippines, China, and more. The team is very grateful for the selection, and it's recognition for everyone involved, a testament to the careful and well-done work reflected in a few minutes, the result of several months of effort," expresses Diana Patiño, who returns to this event after winning the Lion of Venice in 2020 for the short film "Between You and Milagros" by Mariana Saffon.
"Bogotá Story" will be screened on August 30th, September 8th, and September 9th, totaling seven showings during the event that reaches its 80th edition this year, taking place from August 30th to September 9th. The team accompanying these screenings will include Esteban Pedraza; Diana Patiño Martínez; Alexandra Qin and Marcela Gómez, associate producers; Catalina Rey, lead actress; Ryan Marie Helfant, director of photography; Vicente González, casting assistant; and Alejandro Gutiérrez Abaúnza, model designer and architect.
Image credit: La Productora Cine.
<<
Go to Spanish version