<<
Go to Spanish version
08/22/2023
Gael García Bernal is 'Cassandro': The Inspiring Story of a Drag Queen in Male Wrestling
Saul Armendariz, a gay amateur wrestler from El Paso, rises to international stardom after creating the character of Cassandro, the 'Liberace of Lucha Libre.' In the process, he not only changes the world of male wrestling but also his own life.
This is the plot of 'Cassandro,' the film starring Gael García Bernal, which Prime Video will premiere on September 25th.
This story represents the new film from Oscar-winning documentarian Roger Ross Williams (Life, Animated), which premiered at the Sundance Film Festival and also marks his debut in fictional cinema. At the event, it was highlighted that with 'Cassandro,' the filmmaker managed to create an 'intriguing origin story for an outsider turned unlikely superstar,' and Gael García Bernal 'embodies both sides of Saul, capturing both his feelings of otherness and the boisterous ring personality that embraces and revels in his difference.'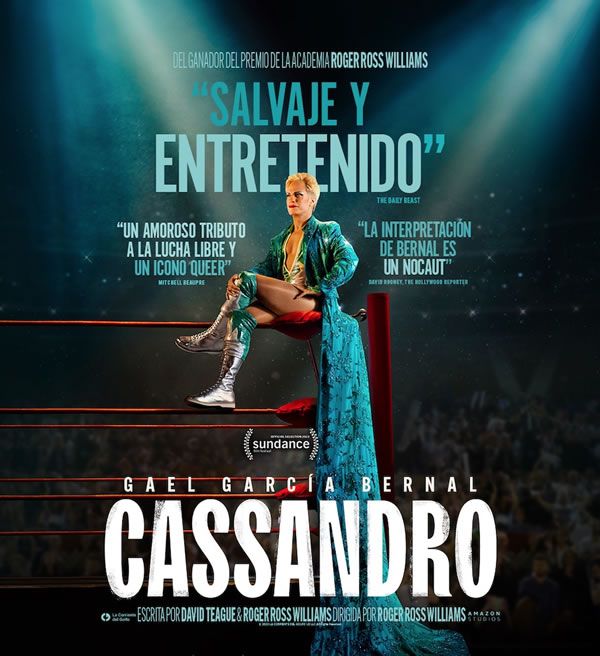 Set in the 1980s and in the Juarez, Mexico wrestling scene, Saul grows tired of portraying 'El Topo,' a dwarf wrestler who always ends up being the loser, because he desires to be a star. His new trainer, Sabrina, suggests he create a new character, one more exotic, stereotyped, and effeminate. The result is Cassandro, an extravagant wrestler who captures the attention and affection of the crowd. The name chosen for his wrestling persona came from a Tijuana prostitute whom he admired, among other things, for her great generosity towards the poor and especially the children, to whom she gave a portion of her earnings.
In 2014, for a feature article in The New Yorker that highlighted how a drag queen had become a Mexican wrestling star, Saul commented: 'Homosexuals still carry a great stigma. We are seen as prostitutes, drug addicts, seducers, etc. But we are not all the same. Some of us are now seen as positive role models. I've had heterosexual people tell me that they accept gay people more because of me.' His story also appeared in the documentary 'Cassandro, The Exotico!' directed by filmmaker and curator Marie Losier.
Roger Ross had previously featured Saul Armendariz in his documentary short film 'The Man Without a Mask' (2016) and had been writing this new fictional film for several years. For the lead role, he shared that he had been pursuing García Bernal for almost a year, even approaching him during various Oscar events, where he casually mentioned the project. It was only when his agents managed to secure a meeting with the renowned Mexican actor that Ross could detail the film, and Gael immediately accepted.
Gael García Bernal described the story of 'Cassandro' to the Los Angeles Times as 'a wrestling film with makeup, hairstyles, perfume, joy, sequins, glitter, and love.' He also spoke about the challenges of portraying this character with a high level of physical training. 'It took a lot of sweat and pain to film the wrestling scenes, which means it was quite heavy because we had to train a lot and do it for real.' For the actor, it was also a wonderful experience to 'portray a character like Cassandro, his life, and draw inspiration from his entire adventure of subverting the norms in wrestling, of transforming how this discipline is perceived."
<<
Go to Spanish version