Nov 22 2016 21:27
5 latinoamericanos nominados en los Independent Spirit Awards 2016
El cine latinoamericano vuelve a brillar en Estados Unidos al contar con cinco de sus artistas dentro de los nominados a los Independent Spirit Awards 2016.
Los directores Michel Franco (México) y Pablo Larraín (Chile) compiten con sus producciones en la categoría de Mejor Película. Así mismo, el brasilero Kleber Mendonça Filho aparece en la categoría de Mejor Película Internacional. También hay que sumar al editor y guionista Sebastián Sepúlveda nominado a Mejor Montaje por "Jackie" y la nominación a mejor actriz de reparto de la talentosa Paulina García por su participación en su primer proyecto internacional "Little Men".
Ha sido un gran año para el venezolano Edgar Ramírez que además de haber participado en tres producciones de Hollywood (Gold, Hands of Stone y The Girl on The Train) fue hoy el presentador en la rueda de prensa, junto a la actriz Jenny Slate, que se llevó a cabo en el Hotel W en Hollywood.
Así como ha ocurrido en el anuncio de los nominados a los Gotham Awards 2016, anticipadamente se ha asignado a "Moonlight" como el mejor reparto. La película dirigida por Barry Jenkins sigue tomando fuerza para esta temporada de premios. En los Independent Spirit Awards suma seis nominaciones. Le sigue "Manchester By The Sea", con cinco. Una película protagonizada por Casey Affleck, también favorita en los Premios Gotham.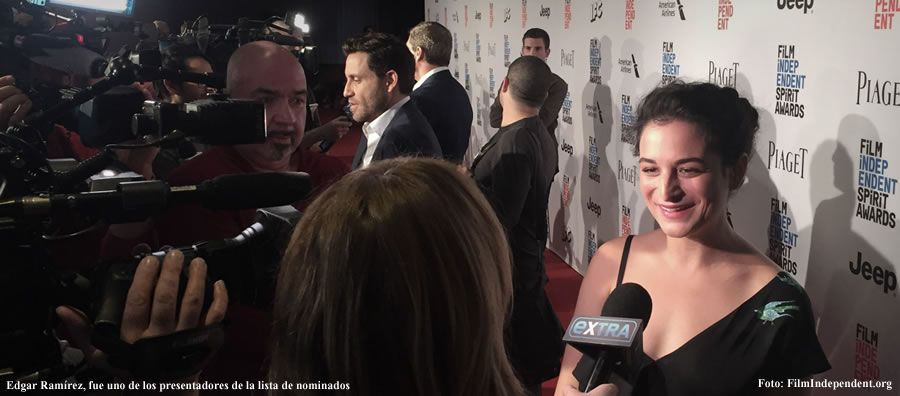 Michel Franco compite con su segundo largometraje "Chronic", la única película latinoamericana que participó por el Palma de Oro 2015 en Cannes y obtuvo el premio a mejor guion. Entre tanto, Pablo Larraín aparece con "Jackie", su primera producción en idioma inglés que hizo bajo la productora del cineasta Darren Aronofsky y que tiene como protagonista a Natalie Portman. Kleber Mendonça figura en la competencia internacional con Aquarius (leer detalles de Aquarius), la única latina que compitió en 2016 por la Palma de Oro, trayendo con éxito de regreso a la esfera internacional a la actriz Sonia Braga.
Mejor Película (Premio otorgado al productor)
Mejor Ópera Prima (Premio otorgado al productor y director)
The Childhood of a Leader
The Fits
Other People
Swiss Army Man
The Witch
Teixeira
Mejor Director
Andrea Arnold, American Honey
Barry Jenkins, Moonlight
Pablo Larraín, Jackie
Jeff Nichols, Loving
Kelly Reichardt, Certain Women
Mejor Guion
Barry Jenkins, Tarell Alvin McCraney (story by), Moonlight
Kenneth Lonergan, Manchester by the Sea
Mike Mills, 20th Century Women
Ira Sachs, Mauricio Zacharias, Little Men
Taylor Sheridan, Hell or High Water
Mejor Primer Guion
Robert Eggers, The Witch
Chris Kelly, Other People
Adam Mansbach, Barry
Stella Meghie, Jean of the Joneses
Craig Shilowich, Christine
Premio John Cassavetes (Premio Otorgado a la mejor película hecha con un presupuesto menor a 500 mil dólares. Entregado al escritor, director, productor)
Free In Deed
Hunter Gatherer
Lovesong
Nakom
Spa Night
Mejor Actor Protagónico
Mejor Actriz Protagónica
Mejor Actor Reparto
Ralph Fiennes, A Bigger Splash
Ben Foster, Hell or High Water
Lucas Hedges, Manchester by the Sea
Shia LaBeouf, American Honey
Craig Robinson, Morris From America
Mejor Actriz de Reparto
Edwina Findley, Free In Deed
Paulina Garcia, Little Men
Lily Gladstone, Certain Women
Riley Keough, American Honey
Molly Shannon, Other People
Mejor Cinematografía
Ava Berkofsky, Free In Deed
Lol Crawley, The Childhood of a Leader
Zach Kuperstein, The Eyes of My Mother
James Laxton, Moonlight
Robbie Ryan, American Honey
Mejor Montaje
Matthew Hannam, Swiss Army Man
Jennifer Lame, Manchester by the Sea
Joi McMillon, Nat Sanders, Moonlight
Jake Roberts, Hell or High Water
Sebastián Sepúlveda, Jackie
Mejor Película Internacional
Aquarius (Brazil)
Chevalier (Greece)
My Golden Days (France)
Toni Erdmann (Germany/Romania) (Leer detalles de Toni Erdmann)
Under the Shadow (Iran/United Kingdom)
Mejor Documental (Premio entregado al director y productor)
13th
Cameraperson
I am Not Your Negro
O.J.: Made in America
Sonita
Under the Sun
Premio Robert Altman (Premio entregado a uno de los directores, director de casting y reparto)
Los Independent Spirit Awards entregado desde 1984 realizará la ceremonia de premiación en la playa de Santa Mónica el próximo 25 de febrero de 2017.